Create juicy veal chops with sundried tomato gremolata to level up your dining experience
Juicy grilled veal chops with sundried tomato gremolata are delicious and perfect for your summer grilling menus. The mixture of sun-dried tomatoes and herbs takes a perfect veal chop to the next level of flavor. Grilled veal chops are easy to make at home on the grill, and they deliver a next-level eating experience.
For the grilled veal chops
4 Veal chops
6 Tbsp. Oil
Salt & Pepper
Rosemary
Balsamic Reduction
For the sun-dried tomato gremolata 
3 oz Sun-dried tomatoes, minced
⅛ cup Parsley, chopped
2 cloves Garlic, finely minced
1 Lemon, zested
Salt
Instructions
In a small bowl, whisk together the sun-dried tomatoes, parsley, garlic, lemon zest, and salt. Set aside.
Rub the chops in olive oil, salt, and pepper. Sprinkle with rosemary and let rest for 30 minutes. Meanwhile, prep a 2-zone fire on your grill with charcoal on one side of the grill. Cover and preheat.
Place chops on the hot side of the grill for 3 to 4 minutes. Rotate and grill another 2 minutes. Flip chops and place on the cooler side of the grill. Cover and cook 4 to 5 minutes longer until the chops reach an internal temperature of 140 degrees F as measured by a meat thermometer. Remove from the grill and rest on a plate covered with foil for 5 minutes. The internal temperature will rise to 145 degrees F for medium rare while the chops rest.
To serve, slice the chops from the bone, and then slice the steaks into thin strips against the grain. Drizzle with the balsamic reduction and spoon the sun-dried tomato gremolata over the chops. Season with salt and pepper.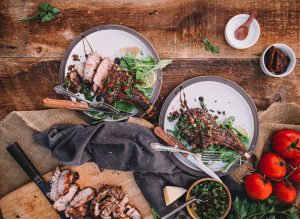 One recipe just doesn't cut it? Find more recipes from Kita at Girl Carnivore and on veal.org, funded by beef farmers and ranchers!
Recipe and Image by Kita Roberts
About The Beef Checkoff:
The Beef Checkoff was established as part of the 1985 Farm Bill. The checkoff assesses $1 per head on the sale of live domestic and imported cattle, in addition to a comparable assessment on imported beef and beef products. States may retain up to 50 cents on the dollar and forward the other 50 cents per head to the Cattlemen's Beef Promotion and Research Board, which administers the national checkoff program, subject to USDA approval.