Tender veal cutlets, infused oil, kale, and parmesan combine to make this summer spectacle
Stuffed veal cutlets are tender, delicious, and perfect for serving at family gatherings! These cutlets are rolled or sandwiched with loads of kale and cheese on the inside. Pounded veal cutlets are tender and delicious, seasoned with an infused oil, and stuffed with cooked kale and cheese. Stuffed veal cutlets are grilled to perfection and served immediately.  Don't have a grill? Prepare these cutlets in the oven or a sauté pan!
4 Tablespoons grapeseed, olive or avocado oil
salt and pepper, to taste
2-4 veal cutlets, depending on the size
2 cups chopped kale (stems removed)
1/2 cup shredded Parmesan cheese
Red pepper flakes, to taste
To begin, make your garlic oil by combining garlic and oil in a small ramekin and season with salt and pepper. Set aside for 15 minutes or more to allow flavors to infuse.
Heat a sauté pan, add 1.5 TBS of the garlic oil to the pan and then add your kale. Season kale with salt, pepper and red pepper flakes and sauté until wilted.
Remove the kale from heat and allow to cool for 5 minutes. Then add in the Parmesan cheese and toss to combine the two.
When ready to grill, season veal cutlets with salt & pepper and brush liberally with garlic oil. Stuff each cutlet and roll or layer them like a sandwich and secure with toothpicks.
Grill each for a few minutes per side until the veal is cooked through. Veal cutlets cook very quickly and are hard to temp using a meat thermometer because they are thin. Make sure to remove from grill once the cutlets have browned and move freely form the oiled grill.
These cutlets pair well with roasted potatoes, grilled zucchini or a simple rice or pasta. Head on over to veal.org, funded by beef farmers and ranchers to see more great grilling recipes!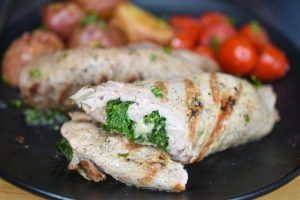 About The Beef Checkoff:
The Beef Checkoff was established as part of the 1985 Farm Bill. The checkoff assesses $1 per head on the sale of live domestic and imported cattle, in addition to a comparable assessment on imported beef and beef products. States may retain up to 50 cents on the dollar and forward the other 50 cents per head to the Cattlemen's Beef Promotion and Research Board, which administers the national checkoff program, subject to USDA approval.